You're all dressed up, makeup in place, properly accessorized and ready to step out the door when you notice it – a gray hair popping out of your head! You investigate further, only to find that he's got more friends like him, waiting to be unearthed!
Finding a gray hair can bring up mixed emotions, and one of them is horror. Another one is confusion – what am I going to do now? The only consolation is that you're not alone in this! When your hair starts graying as you get older, it's just a sign of the inevitable. But hair that grays before its time indicates a problem. For us Asians, graying hair before the age of 25 is considered premature graying, and there are many reasons for this.
Common Causes of Premature Graying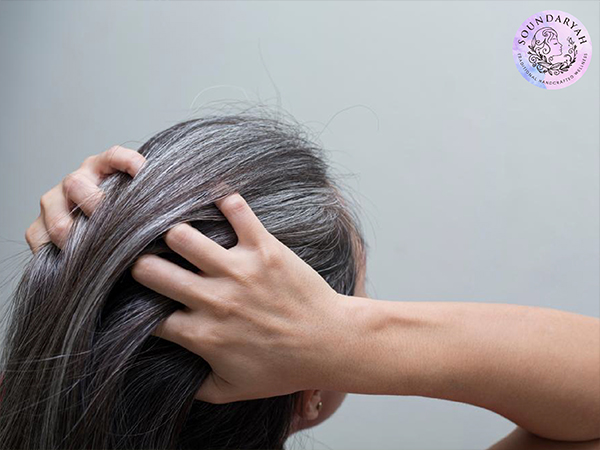 Nutritional Deficiencies – of Vitamin B12, Vitamin D3, Iron, Copper, Protein
Smoking – If you smoke, you needn't look elsewhere for reasons
Stress- along with its associated problems like lack of sleep, anxiety or raised blood pressure
Medical conditions – such as autoimmune disorders or a thyroid imbalance
Genetics – If your parents' hair grayed early, it's likely yours will too
As you look at the list above, it's obvious that the remedy will depend upon the cause. For instance, you can stop smoking and eat well, but there's not much you can do about genetics. What this means is that preventing premature graying of hair is only possible to a certain extent.
So this brings us to the question – how do I deal with my gray hair? Common solutions to tackle this include:
Expensive, chemical-laden hair colors promoted by celebrities
Questionable formulations prepared by your local 'parlor lady'
Natural solutions that provide other health benefits without side effects
So what's your choice going to be? If you're like anyone who cares about their health and the environment, it's bound to be the last one. And when it comes to natural remedies for gray hair, no one can beat the master of them all – Indigo powder.
Amazing Natural Way to Cover Gray Hair without Dye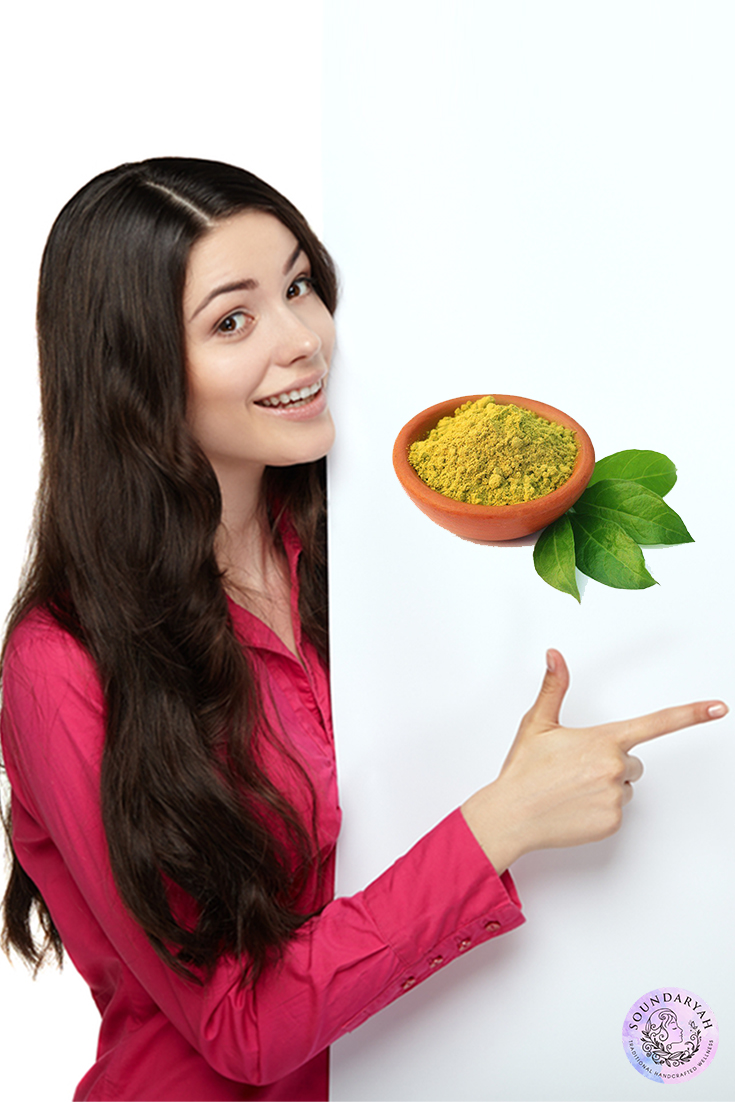 What is Indigo powder?
Indigo powder is extracted from the Indigo plant, Indigofera tinctoria. This plant is native to India; in fact, the name 'Indigo' is derived from 'India'! This was quite a precious commodity in the olden days, and was called 'Blue Gold'.
While indigo is a shade of blue, indigo powder is green in color. Indigo leaves are fermented, sun dried and powdered, and this process turns the color from blue to green. So if you were worried that your hair was going to turn bright blue, don't worry – it doesn't work that way!
What does work, however, is that in combination with henna, indigo powder can turn your gray strands into any shade of brown or black that you want – without an ounce of chemical additives.
Indigo Coloring Hair Pack for Gray Hair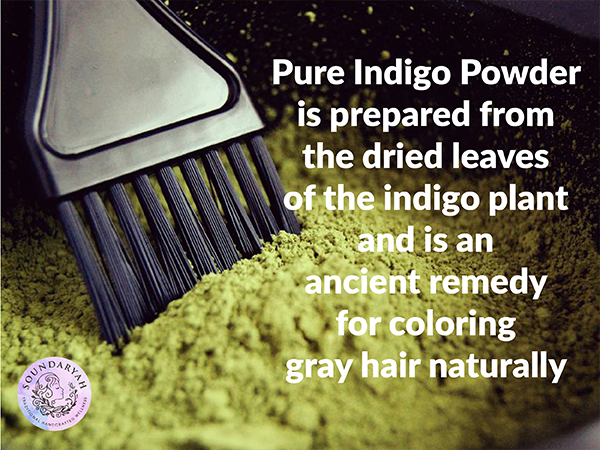 Hair coloring with indigo powder is a two-step process, usually done over two days – henna on the first day and indigo on the next. It is advised to do the first step on a day you don't intend to go anywhere since your hair is likely to turn red due to the henna.
What you need: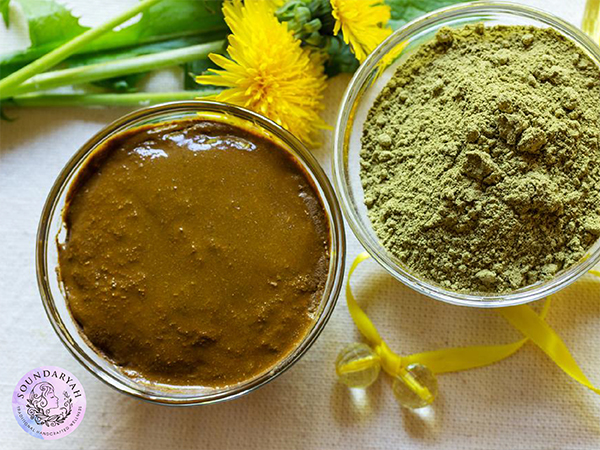 Organic Indigo powder – 200 g for shoulder length hair (increase or decrease by 100 g based on length of hair)
Organic Henna powder – same quantity as indigo powder
Salt – 1 tsp
Lemon juice – 1 tbsp
Freshly brewed black tea, strained
Non-metallic mixing bowl (preferably glass)
Hair coloring brush
Rubber or latex gloves
Plastic wrap
Shower cap
Old Towel
Hair pins or clips to section hair
Instructions:
Mix the henna in the black tea to make a smooth paste. Add the lemon juice and mix. If you have dry hair, you can also add a teaspoon of coconut oil. The paste should not be too runny; it should resemble pudding. Cover the bowl with plastic wrap and leave overnight.
Ensure your hair is clean and dry before you begin; it should not be greasy. Gather all your materials.
Apply a thick cream on your ears and along your hairline to prevent your skin from staining.
Drape an old towel around your shoulders to protect your neck and your clothes. Put on gloves.
Separate your hair into small sections and secure with a clip. Unpin one section and apply the henna with the brush, working from the root to the end.
When done, pin up this section and move on to the next, till all sections are complete. Massage any leftover henna all over your head to ensure you don't miss a spot.
Cover your head with a shower cap and leave it for 4-5 hours. Wash off with plain water – do not use shampoo. Ensure all the henna has been thoroughly rinsed off. Dry hair naturally.
The next day, when you're ready to apply, mix the indigo powder in enough warm (not hot) water to get a smooth, thick paste. Add a teaspoon of salt and leave it for about half an hour. If it hardens after this time, loosen it up with a little warm water.
Section the hair as done earlier, and apply the indigo paste to all sections. Cover the hair in a shower cap and leave for 2-3 hours.
Wash off with cool, plain water – not shampoo. Dry your hair naturally.
Wait for at least 2 days before oiling your hair and at least 3 days before shampooing it. This will help the dye stick.
You can experiment with indigo powder and henna in different ratios to get different shades of brown. Hair that's prominently gray may require another application for complete coverage. Minimize heat styling to ensure more long term coverage. When shampooing after dying your hair, it's best to opt for natural shampoos and conditioners.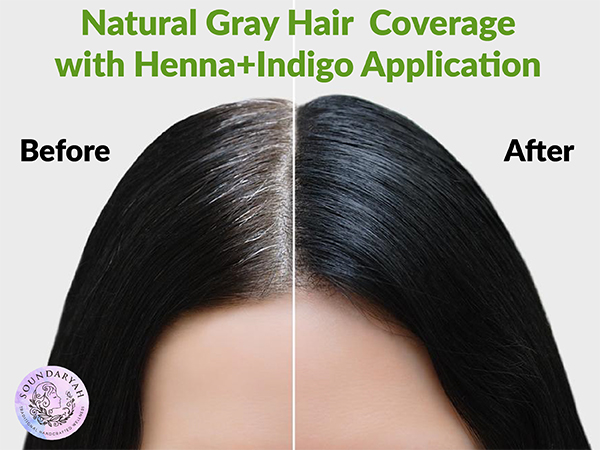 We know that indigo powder solves your gray hair problem, but that's not all it does! Indigo powder has a host of other health benefits for your hair:
Prevents further graying of hair
Promotes hair growth
Conditions the hair, making it soft and smooth
Soothes the scalp from irritation after using chemical products
Prevents scalp infections
Fights dandruff
However, in order to get all these benefits, it's of the utmost importance to choose the right indigo powder. Most of the indigo powder sold today are synthetic, containing metallic salts and other adulterants, due to which they are sold quite cheap. Make sure to get your indigo powder from a trusted source that sells organic products. Read the back of the pack to be certain. The powder you get should be green and should smell something like peas. On mixing with water, it should turn an inky blue.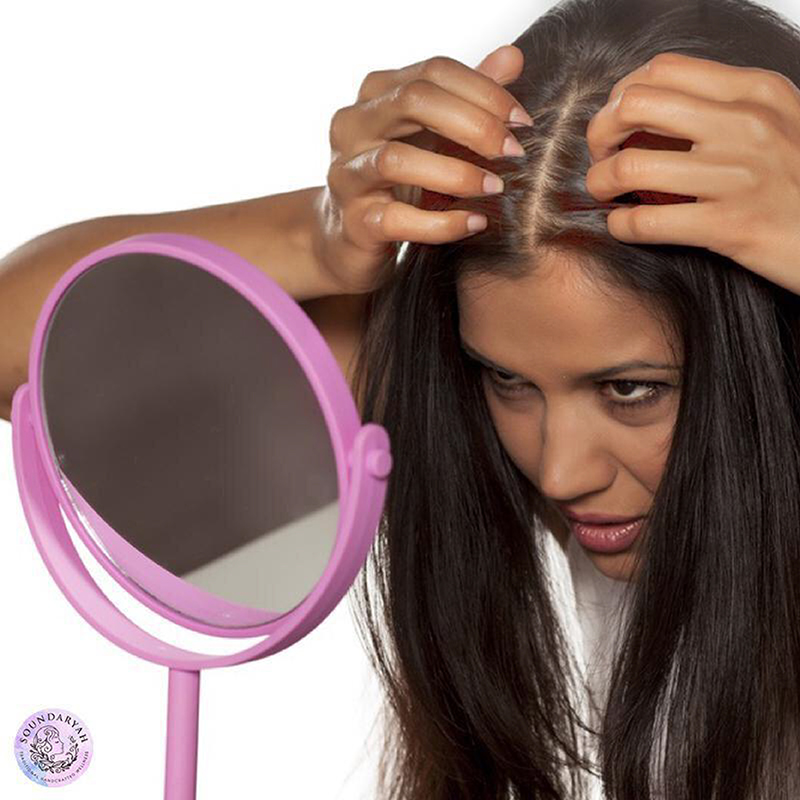 Store your indigo powder in a clean and dry airtight container, placed in a cool, dark place. Avoid freezing the powder – it loses its potency that way. Always do a patch test before you dye your hair with indigo powder. While it's mostly safe, a small percentage of people may be allergic, in which case they'll experience symptoms like itchiness, headache or dizziness. If you experience any of these, stop using the indigo powder and try another hair dye.