Overuse of chemical products can lead to falling hair. Reverse the damage and welcome healthy hair with these traditional herbs to treat hair fall.
Falling in love is a beautiful feeling. As is falling on to a bed with fresh, new sheets. But falling hair? Now that's a whole different story!
Some amount of hair fall is normal and is a part of the natural hair growth cycle. However, if you find your hair leaving behind traces showing all the places you've been, you know there's a problem.
One thing you can try is to go for every hair product on supermarket shelves with the words 'hair fall' on the label. But as long as they're made with chemicals, they're more likely to aggravate the situation than fix it.
That's why we always recommend going back to Nature for the remedy. And Nature gives us plenty of options, in the form of herbs with special properties to treat hair fall. The advantage of using these is that not only do you protect your mane from the onslaught of chemicals, you get additional benefits like less dandruff, healthier hair and more hair growth. 
There are lots of traditional herbs out there, which can lead to confusion. Here are our top 10 picks for traditional herbs to treat hair fall, explained in detail!
Top 10 Traditional Herbs to Treat Hair Fall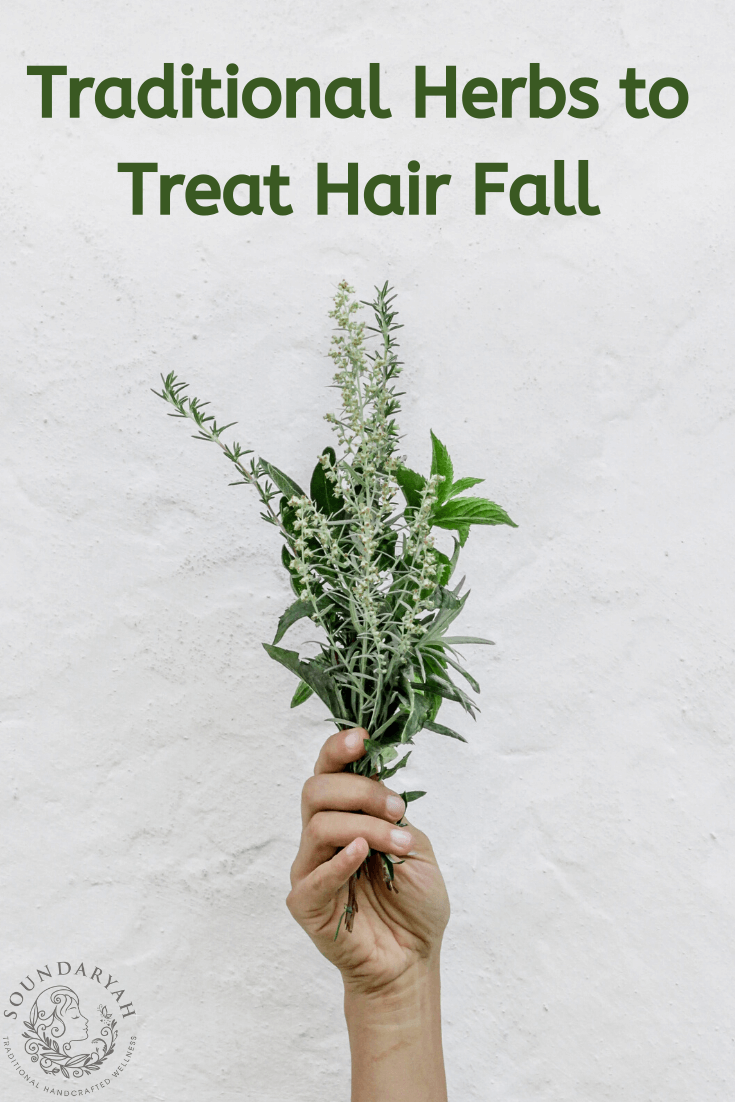 Amla (Indian Gooseberry)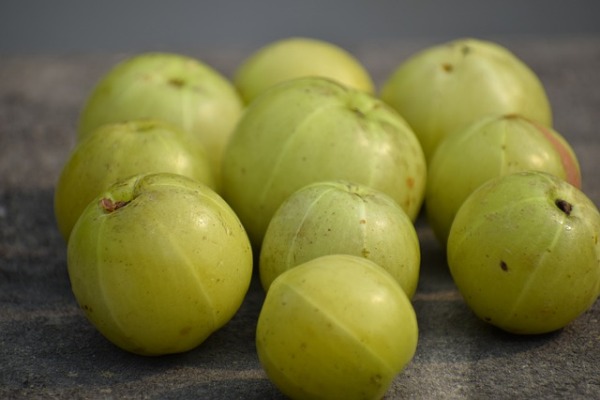 Botanical Name: Emblica Officinalis
Amla is the number one choice of anyone trying natural hair remedies and with good reason! Amla has a special place in Ayurveda, for many purposes other than hair fall. In fact, Amla is often an essential ingredient in many Ayurvedic medicines.
Amla is one of the best-known sources of Vitamin C. The rich antioxidant content of amla fights free radical activity and encourages blood circulation in the scalp which in turn stimulates the follicles. Amla also contains iron, gallic acid, and carotene
Amla contains lots of essential fatty acids that help strengthen hair and prevent hair breakage. It also balances the pH of the scalp and reduces dandruff. When combined with shikakai, amla can also act as a natural brown hair dye.
How to use Amla to treat hair fall: 
One way of using amla is by making amla oil. Heat some coconut oil, add 2 teaspoons of amla powder and heat again. Turn off the heat when the oil turns brown. Cool to room temperature and apply all over the scalp.
Another way of using amla is by making a hair mask. Mix amla powder with just enough water or lime juice to make a paste. Massage it all over the scalp and hair. Cover with a shower cap and wash off after an hour.
Bhringraj (False Daisy)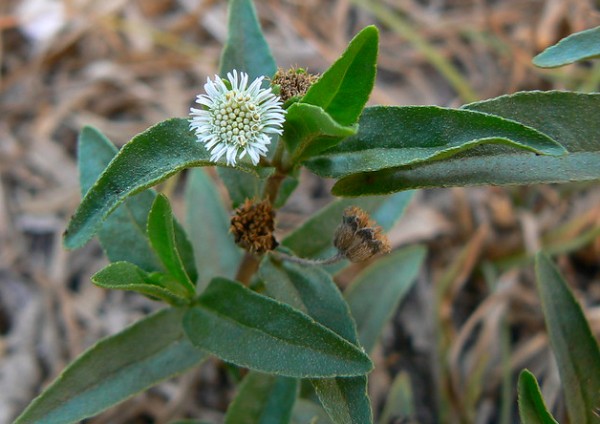 Botanical Name: Eclipta alba
Bhringraj means 'King of Herbs', which is quite an apt name, considering its benefits! Bhringraj is very soothing to the scalp. Since most of the hair action happens in the scalp, Bhringraj becomes a good choice for handling hair problems like hair fall. 
Studies show that Bhringraj nourishes hair follicles and lengthens the growth stage in the hair cycle. Using Bhringraj regularly can show an increase in hair volume, and can help reverse hair loss.
Other than hair fall, Bhringraj also helps to prevent premature greying. It is also known to have a calming effect that improves relaxation and promotes better sleep. According to Ayurveda, Bhringraj can improve metabolism by balancing the pitta dosha.
How to use Bhringraj to treat hair fall:
You can make Bhringraj oil, which is an easy way to use this herb. Sundry Bhringraj leaves for a few days. Put the leaves in a bottle of coconut oil and leave it in the sun for a couple of days, till the color changes. It is now ready for use.
Another way to use Bhringraj is by powdering the sun-dried leaves. Heat coconut oil, add powdered Bhringraj leaves and let it steep. Store in a glass bottle when cool. After applying, allow 30 minutes for absorption before washing off.
You can also make a hair mask by blending Bhringraj leaves with enough water to make a paste. Alternately, you can add the powdered leaves to water and mix. Leave the paste on the scalp and hair for 20 minutes. Wash off with shampoo.
Shikakai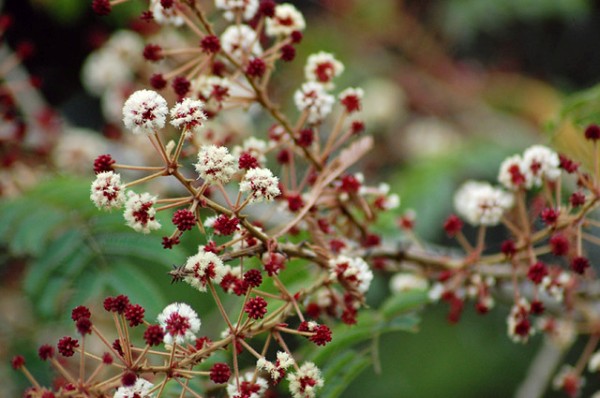 Botanical Name: Acacia concinna
Shikakai means 'fruit for hair'. That's a lovely meaning, considering all the nutrients shikakai provides the hair and scalp. Shikakai is an excellent natural alternative to shampoo, also since it provides lather when combined with water.
Shikakai is rich in antioxidants as well as hair essential vitamins like Vitamins A, C, D, and K. It is a natural cleanser and helps ridding the scalp of built-up dirt and excess oil. This makes Shikakai perfect for giving you a squeaky clean scalp that provides an environment conducive for healthy hair.
When combined with amla, reetha, and hibiscus, shikakai becomes the perfect solution for frizzy hair. Rather than stripping hair of its natural oils, this herb conditions hair and makes it more manageable.
How to use Shikakai to treat hair fall:
Sundry shikakai pods for a few days and grind to a powder. There are two ways to use this powder. One is to add the powder to a bottle of coconut oil and let it sit in a cool, dark place for two weeks. Shake the bottle before using.
Another way to use the powder is to combine it with some water in a jug and use it as a shampoo rinse. Run the rinse through hair and work up a lather. Rinse off with water and repeat. 
Brahmi (Bacopa)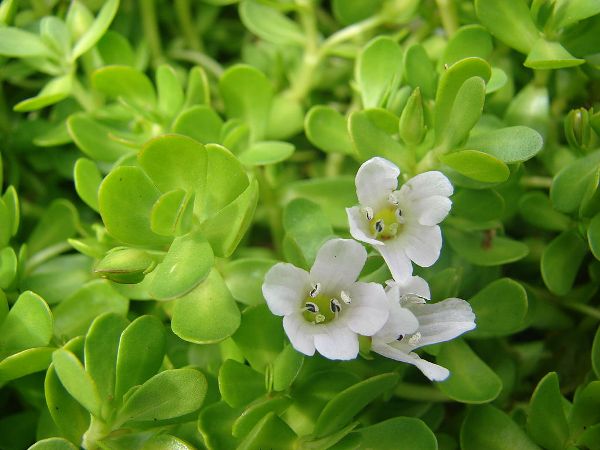 Botanical Name: Bacopa monnieri
Brahmi is a name you've probably come across since it's an essential ingredient in many Ayurvedic formulations. Brahmi is pretty much a super herb when it comes to hair fall since it can tackle nearly every hair problem out there.
Brahmi contains alkaloids that can activate the proteins responsible for hair growth. It provides nourishment to the hair follicles and strengthens hair which prevents breakage. Brahmi works its magic on the scalp by treating dandruff and reducing itchiness due to scalp infections. Brahmi also helps the hair strands by making hair lustrous and reducing split ends.
Besides these, Brahmi also has stress-relieving properties, and massaging the scalp with Brahmi oil can help treat insomnia.
How to use Brahmi to treat hair fall:
Brahmi powder is an excellent ingredient to use in hair masks, especially in combination with other ingredients. One popular hair mask recipe is by combining equal amounts of amla and Brahmi powders with enough coconut oil to get a paste.
A more elaborate hair mask can be made with equal parts of Amla, Ashwagandha and Brahmi powders with enough yogurt to get a consistent paste. Apply all over the scalp and hair and leave for an hour before washing off.
Neem (Indian Lilac)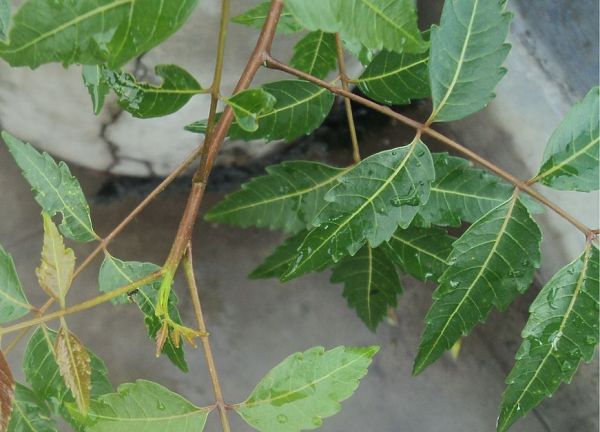 Botanical Name: Azadirachta indica
Neem is no stranger in Indian households and is quite popular in treating skin conditions. It is this very property that makes it perfect to treat the scalp, thus fixing hair fall problems. 
Neem improves blood circulation in the scalp and encourages hair growth. It also fights against scalp infections like dandruff, lice, eczema, and scaliness. Neem soothes the itchiness that comes with these conditions as well as dryness. 
Neem strikes hair fall at the root, by strengthening hair and preventing it from falling. It also fixes damage due to overuse of hair products or treatment.
How to use Neem to treat hair fall:
One way of using neem to treat hair fall is with a hair mask. Grind the leaves with a little water to make a paste. Apply all over the hair and scalp and leave for an hour before washing off.
Another way to use neem is to make a neem rinse. Boil some neem leaves in water for 15 minutes. Let it cool before straining and collecting the liquid in a mug. Use this as a final rinse when washing your hair. 
Methi (Fenugreek)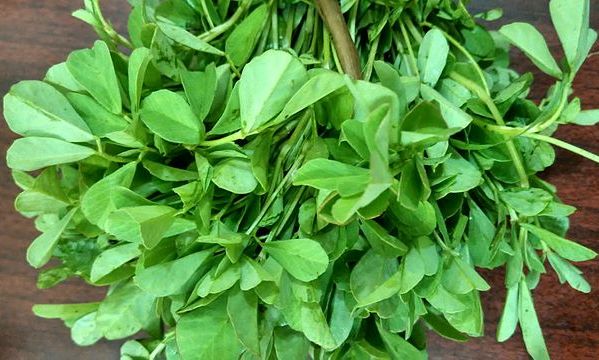 Botanical Name: Trigonella foenum-graecum
Methi is great to use for cooking, but it is also great for hair. Methi seeds, in particular, are available in every Indian kitchen and is a common ingredient in natural remedies for hair fall.
Studies have found that methi extracts increase hair volume in people with hair loss. This could be due to the high nutrient content in fenugreek. Methi seeds are rich in vitamins like folic acid, Vitamins A, C, and K as well as minerals like calcium, potassium, and iron. 
Fenugreek also contains nicotinic acid which fights scalp conditions like dandruff and reduces hair thinning. The lecithin in methi strengthens and nourishes hair roots, thus encouraging better hair growth.
How to use Methi to treat hair fall:
Methi seeds work very well in a hair mask. There are two ways to make a methi hair mask. One way is by soaking methi seeds overnight, and grinding the soaked seeds to make a paste.
The other way is by dry roasting the seeds and then grinding them to powder. Add enough water to make a paste. Apply the methi hair mask all over the scalp and hair and leave for 20-30 minutes before washing off.
Ashwagandha (Indian Ginseng)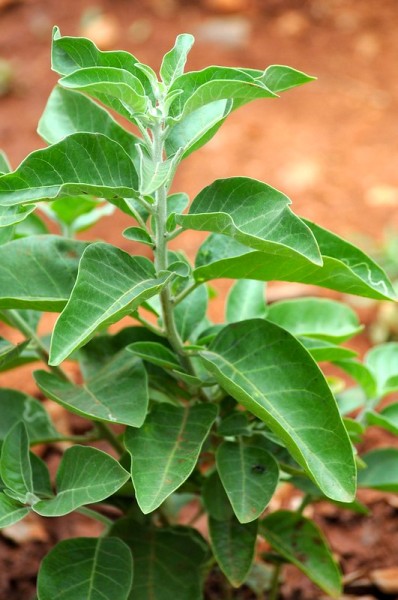 Botanical Name: Withania somnifera
Ashwagandha is known as Indian Ginseng or Indian Winter Cherry and is a main ingredient in Ayurvedic treatments for hair fall. Ashwagandha can control cortisol levels in the scalp, which can be responsible for hair loss. 
Ashwagandha has many unique compounds that encourage hair growth by inhibiting enzymes related to hair loss. It also increases antioxidant activity that fights free radicals and increases cell building activity in the scalp. The herb also stimulates an increase of melanin, which boosts hair growth. Besides all this, Ashwagandha also helps clearing the scalp of dandruff.
How to use Ashwagandha to treat hair fall:
Ashwagandha is often combined with other ingredients to make hair masks to treat specific hair conditions. For hair fall, combine equal parts of Amla powder and Ashwagandha powder with enough water to get a thick paste. Apply it all over the scalp and hair and leave it on for half an hour before washing off.
Jatamansi (Muskroot)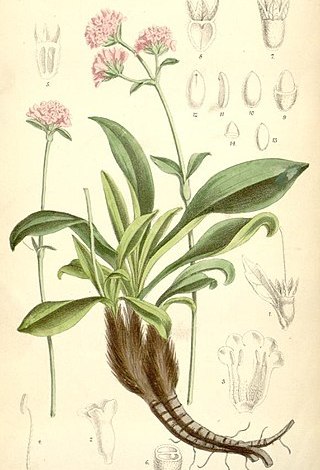 Botanical Name: Nardostachys jatamansi
Rather than the Jatamansi plant, it is the rhizome that is used in several traditional medicinal formulations. It has been so popular in treating various ailments that the overuse has made it an endangered plant.
One of the main uses of Jatamansi is in treating skin infections, which extends to the scalp as well. Jatamansi can treat dermatitis, dandruff, and fungal infections and keep the scalp clean and healthy. Jatamansi has also shown improvement in hair growth after hair loss due to damage or chemotherapy.
Jatamansi is used in treatments to purify the blood and improve circulation, which benefits the follicles on the scalp. The herb is also known to improve the texture of hair that has become damaged due to neglect or pollution.
How to use Jatamansi to treat hair fall:
Jatamansi is available as oil or as powder. The oil can be added to a carrier oil like coconut oil and massaged on the scalp. The powder can be added to your regular hair pack and applied all over the scalp. Leave it in for at least 15 minutes for the nutrients to get absorbed.
Reetha (Soapnut)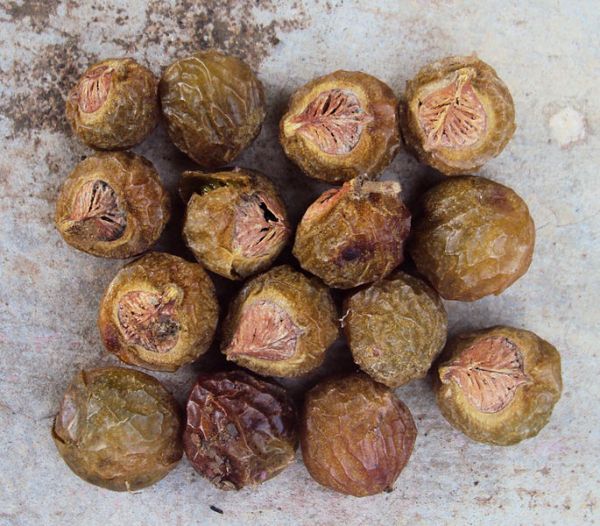 Botanical Name: Sapindus mukorossi
A major reason for hair fall is the use of chemical hair products that contain ingredients like sulfates to generate lather. More lather gives the impression of better cleansing, even though this is not true.
Reetha is Mother Nature's alternative to cleansing agents. It has been used for centuries to clean the hair and body. It is so mild that it can be used generously and causes no damage, unlike chemical cleansers.
Besides preventing damage, Reetha also offers additional benefits. It's anti-bacterial and anti-fungal properties help in keeping the scalp clean without stripping it of its natural oils. Reetha also improves the texture of the hair, making it more lustrous.
How to use Reetha to treat hair fall:
The most common use of Reetha is in a natural shampoo rinse. Soak a handful of soap nuts in 2 cups of hot water and leave it overnight. Boil them in the same water for 15 minutes and leave to cool. Strain and collect the liquid. Use it just like a shampoo.
Reetha can also be used in a hair mask. Mix equal parts of reetha powder and shikakai powder with enough water to make a paste. Apply all over the scalp and leave for 15 minutes. Wash off with lukewarm water.
Curry Leaves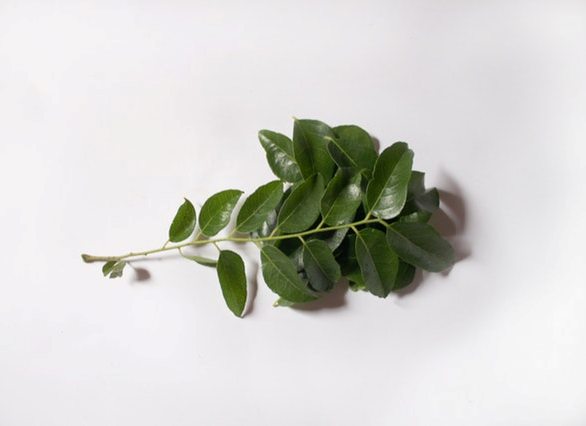 Botanical Name: Murraya koenigii
Curry leaves make a presence in our food, multiple times a day! These dark green leaves are also an excellent medicine for hair and are popular in herbal hair oils. While eating curry leaves is great for healthy hair, the external applications also treat hair loss effectively.
Curry leaves contain antioxidants which fight free radicals and promote cell building. They are rich in beta-carotene and amino acids which strengthen hair follicles. Curry leaves also contain protein, the main component of hair. 
Curry leaves also treat the scalp, removing dead cells and dandruff, while unclogging the follicles. Besides treating hair loss, curry leaves are also effective against premature ageing and help restore the natural color of hair.
How to use Curry Leaves to treat hair fall:
The two most popular ways to use curry leaves is by making a hair tonic and a hair mask. To make the tonic, boil curry leaves and coconut oil till a black residue begins to form. Turn off the heat, cool and collect in a glass bottle. Apply this oil regularly over the scalp and hair. 
To make a hair mask with curry leaves, simply grind the leaves to a paste. It can either be used on its own or mixed in with some yogurt for a pre-shampoo hair mask. 
These herbs can be used on their own or in combination with others for a complete hair loss treatment. However, please consider the risk of an allergic reaction. To prevent this, always do a patch test by applying a small amount on the inside of the wrist and waiting for 24 hours. If there is no reaction, the herb is safe to use. 
Please avoid using the herb in case of any of the following – rash, itching, redness, headache, difficulty breathing or hives. Pregnant or breastfeeding women are also advised against using herbs without consulting their doctor.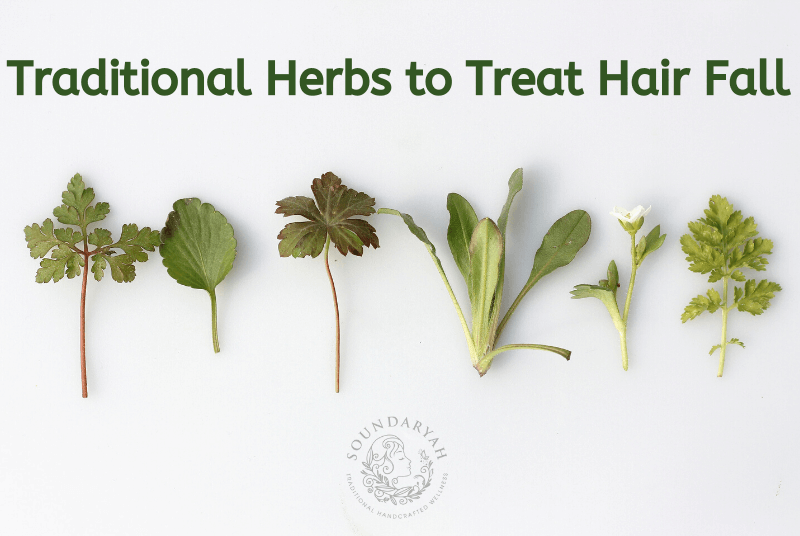 Did you find our Top 10 Traditional Herbs to Treat Hair Fall blog interesting, please let us know in the comments section.
For more interesting updates do follow us on Facebook and Instagram.