Tired of commercial shampoos ruining your hair? Try out Reetha – Nature's shampoo for gorgeous, healthy hair.
Ask any woman and she'll tell you how she loves the ritual of washing her hair. Part of it is the knowledge that your hair and scalp is now squeaky clean, and part of it is all that satisfying lather. Unfortunately, all that feel-good lather comes at a cost – and your hair pays the price.
Contrary to what it may seem like, lather is not in any way indicative of the effectiveness of your shampoo. It's created thanks to a chemical foaming agent or surfactant like sulfates, added by shampoo manufacturers. These chemicals damage the hair's shaft strips it of natural oils and dries out the scalp. The result? Frizzy, tangled, falling hair that's lacking in luster.
That's why people today are trying out natural alternatives, and the solution is right here, in the hands of Mother Nature, and it's called Reetha!
What is Reetha?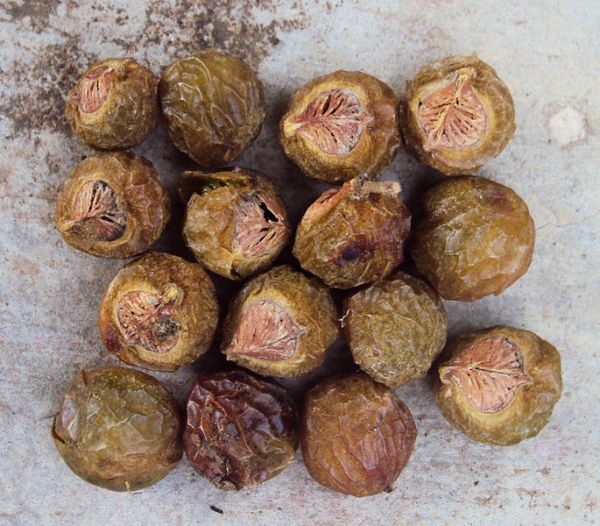 Reetha is commonly known as soap nut or soapberry or washnut. The botanical name is Sapindus Mukorossi and it is a plant that's common in China, India, Nepal and other places with a tropical climate. In India, Reetha also goes by the names Dodani, Doda, Kanma, Arithi (Gujarati), Rinthi or Phenil (Marathi), Antuvala kayi or Amtalakaayi (Kannada), Kunkum chettu or Kunkudukai (Telugu), Pannankottai or Boondi Kottai (Tamil) and Chavakkai and Pasakkottamaram (Malayalam).
There are several varieties of Reetha, but the one grown in North India is the one most commonly used. Their fruits and seeds are slightly bigger than the South Indian variety. The fruit of the tree is often referred to as a nut but is, in fact, a drupe or berry. It has brown leathery skin and contains 1-3 seeds. What we call Reetha or soap nuts are actually the dried shells of the drupe. The shells are golden brown when harvested. They are then dried and turn a dark red. 
The reason Reetha is an excellent alternative to shampoo is because of the saponins inside, which are a natural surfactant. A surfactant is a substance that helps liquids spread by reducing its surface tension. This not only allows it to be used easily with water but also helps in the release of dirt and oil. When Reetha shells absorb water, it releases the saponins responsible for the soapy nature, making them a great option for hair care, skincare, and even laundry.
While the western world maybe just waking up to the benefits of Reetha, it has been used in Ayurveda for centuries, in medicines like Asanadi kashaya. Reetha is known to balance all three doshas – Kapha, Vata, and Pitta, making it suitable for everyone. 
Benefits of Reetha for Hair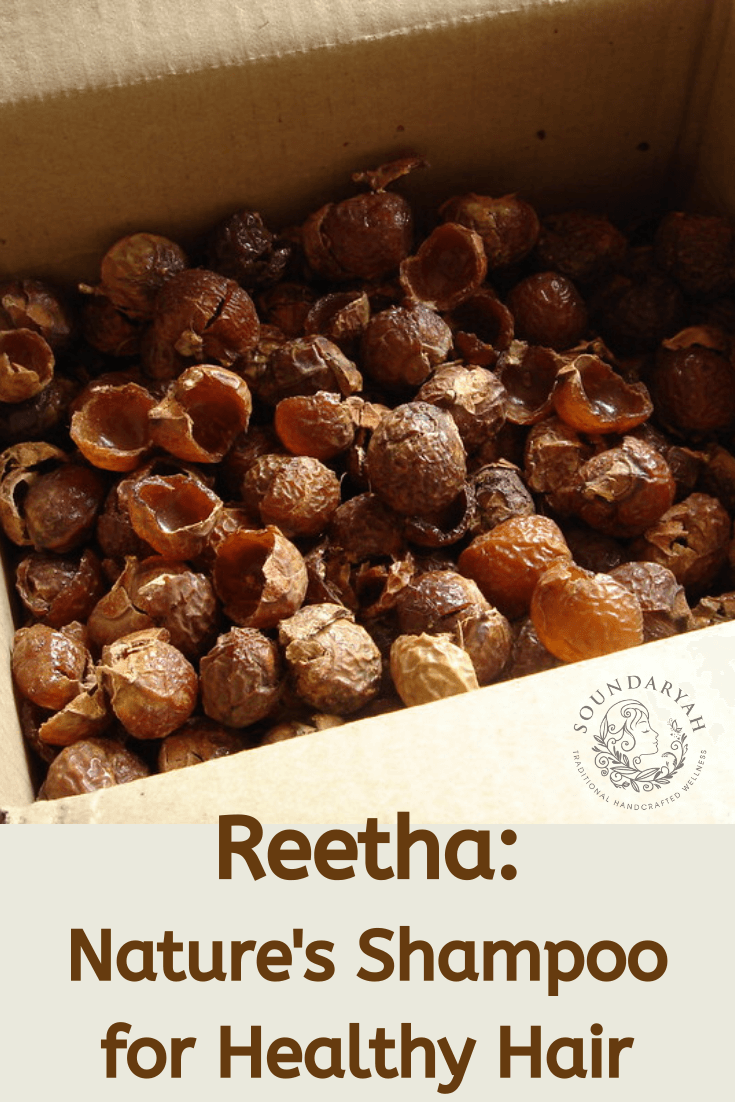 It is a gentle cleanser
Saponin is the main compound in Reetha that does the job of cleansing the hair and scalp. Thanks to its natural surfactant properties, it helps release stuck up dirt and oil that has accumulated on the scalp and hair, without stripping the hair of its natural oils. Reetha also helps prevent premature greying and helps maintain the pigment in the hair.
The best part is that this is done without any side effects, unlike commercial shampoos and cleansers. Even though we call them 'soap nuts', they're not nuts, making them suitable for people with nut allergies. Reetha is also hypoallergenic and odourless, making it an excellent option for people with sensitive skin conditions like eczema, psoriasis or an extremely dry scalp.
It treats and prevents scalp infections
Reetha possesses antibacterial, antiseptic and antifungal properties, making it a natural way to treat and prevent all kinds of scalp infections including dandruff and dry flakes. Reetha's soothing nature provides relief from itchiness and helps exfoliate the scalp, keeping it clean.
Another major benefit of Reetha is thanks to its insecticidal properties. Due to this, it kills parasites like lice, and prevents any further entry. Reetha also heals minor cuts on the scalp and maintains the appropriate pH level.
It is a natural conditioner
Most shampoos end up drying out the hair and scalp, which is why you need to apply more products to condition it. However, Reetha takes care of this problem along with cleansing the hair. It works like a natural conditioner and preserves the natural oils in the hair and scalp.
Reetha soothes the cuticles of the hair shaft making it soft and easy to manage. It also helps to deal with frizz and split ends, common woes found in hair lacking in moisture. The many vitamins present in Reetha add bounce and shine to hair, making it appear lustrous.
It improves hair growth
Reetha is packed with hair-friendly nutrients that prevent hair loss and promote hair growth. Vitamins A, D, E, and K nourish the hair from within, making the strands and roots stronger. They also stimulate the hair follicles so there is better growth.
Reetha also contains iron that increases the strength of hair and prevents breakage. It also contains plant antioxidants that help improve hair texture and thickness, while maintaining good hair health.
It is a greener option
We know that commercial shampoos contain chemicals that are harmful to us. But we don't realize that many so-called natural shampoos may contain ingredients that are grown with chemical fertilizers and pesticides.
This is another area where Reetha scores above other alternatives. Thanks to its natural insecticide properties, Reetha does not require any additional pesticides to be sprayed on the trees. The result is a completely organic ingredient that's also economical. What's more, Reetha can be reused and can be considered a zero-waste material. It is 100% biodegradable and can be composted once their use has been exhausted. 
How to Use Reetha for Hair
Since it has so many benefits Reetha can be used as a cleanser, conditioner, and mask. It is easy to make all these at home, and most of the time the only ingredients needed are the soap nuts and warm water to activate the saponins.
Reetha Shampoo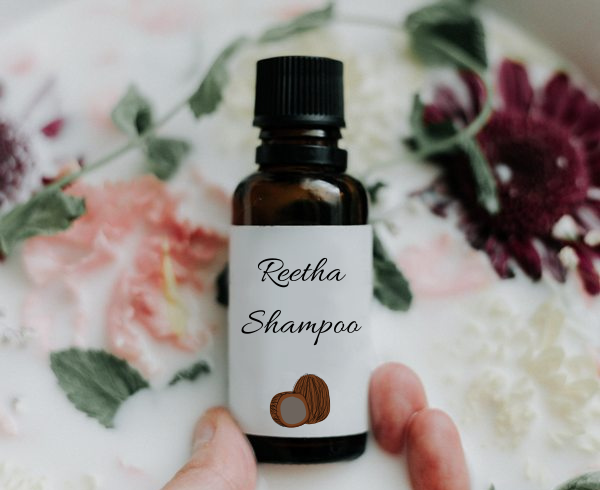 12-15 soap nuts

6 cups of water

2-3 drops of an essential oil
To make the shampoo:
Boil 4 cups of water.

Place the soap nuts in a muslin bag and put the bag in the boiling water. Let it simmer for 20 minutes. 

Add 2 more cups of water and simmer for 10 minutes.

Turn off the heat and let it cool. 

Squeeze the bag to get all the suds out. 

Add a few drops of your essential oil and mix.

Store the solution in a glass bottle in the fridge.

To use, massage the mix into the scalp and hair and let it rest for 5 minutes.

Rinse and repeat if necessary.
Reetha Hair Pack
10-12 soap nuts

1 tablespoon lemon juice

2 tablespoons yogurt
To make the hair pack:
Grind the soap nuts till you get a fine powder.

Mix 3 tablespoons of the powder with the lemon juice, yogurt and enough water to make a paste. 

Apply all over the scalp and hair and let it dry.

Wash it off with normal water or with a Reetha shampoo.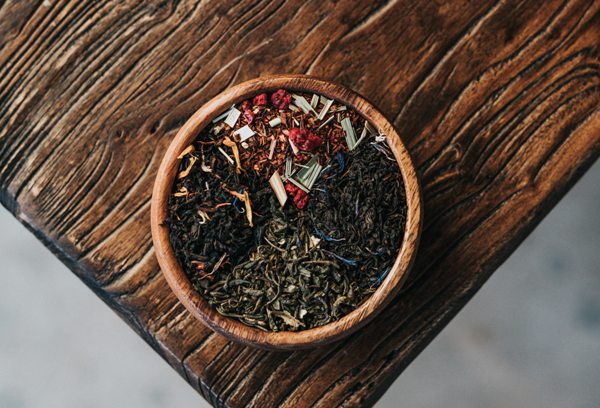 Reetha is often mixed with amla and shikakai, two Ayurvedic herbs that are popular in hair care. Together, these three form a potent combo that tackles problems like dandruff, hair fall and premature greying.
Also Read: 8 Natural Ways to Stop Premature Greying
Amla, Reetha and Shikakai Shampoo
Soak equal quantities of Reetha, Shikakai, and Amla in warm water overnight.

In the morning, heat the mixture. As it begins to boil, turn off the heat.

Let the mixture cool to room temperature.

Blend the mixture to get a pulp. Squeeze the pulp and strain the mixture. 

Store the residue in a glass bottle in the refrigerator.
Amla, Reetha and Shikakai Hair Mask
Take equal quantities of Reetha, Shikakai and dried Amla

Grind the ingredients to get a powder. 

Take a small amount of powder and add water or yogurt to make a paste.

Apply on washed hair and let it rest for five minutes. Wash off with normal water.
Reetha absorbs moisture easily and can become sticky if exposed to air. To avoid this, store the soap nuts in an airtight container. They can be used even if they have become sticky but can be difficult to powder.
When using Reetha, avoid letting it come in contact with the eyes as it can be irritating. Those with severe sensitivities are advised to do a patch test first.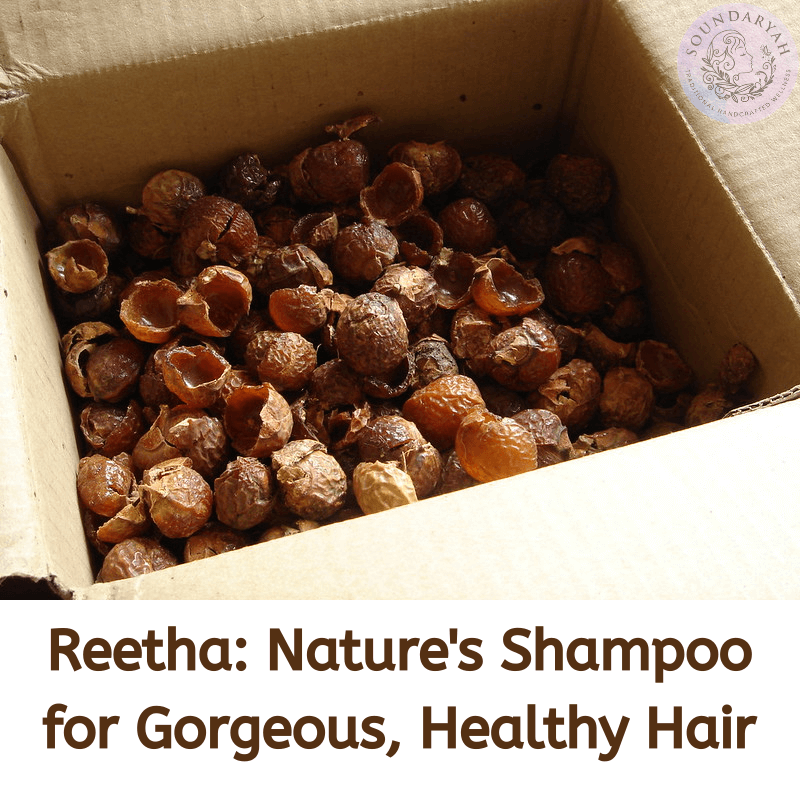 Did you find our Reetha – Nature's Shampoo interesting, please let us know in the comments section.
For more interesting updates do follow us on Facebook and Instagram.