Tired of unending hair problems? Ditch the chemical products and try out this DIY Besan (Chickpea/Gram Flour) Shampoo for healthy hair.
For most of us, our hair is our crowning glory. We treasure those strands and when they're behaving, our hair gives us so much joy. Conversely, when it misbehaves, it can break our heart!
Ask any woman and she's sure to have some hair problem or the other – hair fall, split ends, frizz, coarseness, dandruff – the list goes on! Many of us even have a combination of these, which can be truly frustrating.
Even though our hair problems may seem like they've just popped up for no reason, every problem has a definite source – we just may not be aware of it. Hair reacts very quickly to any change in weather, lifestyle, diet and even mood. And if you add chemicals into the mix, things get worse.
But you have to wash your hair, and that means using shampoo. Yes, you have to wash your hair, but you can do it via a 'no-poo' method. I'm talking about a hair cleanser that is completely free from chemicals and other icky stuff. Yes, it's possible, and we can prove it with our DIY besan shampoo, made from the humble chickpea flour or gram flour!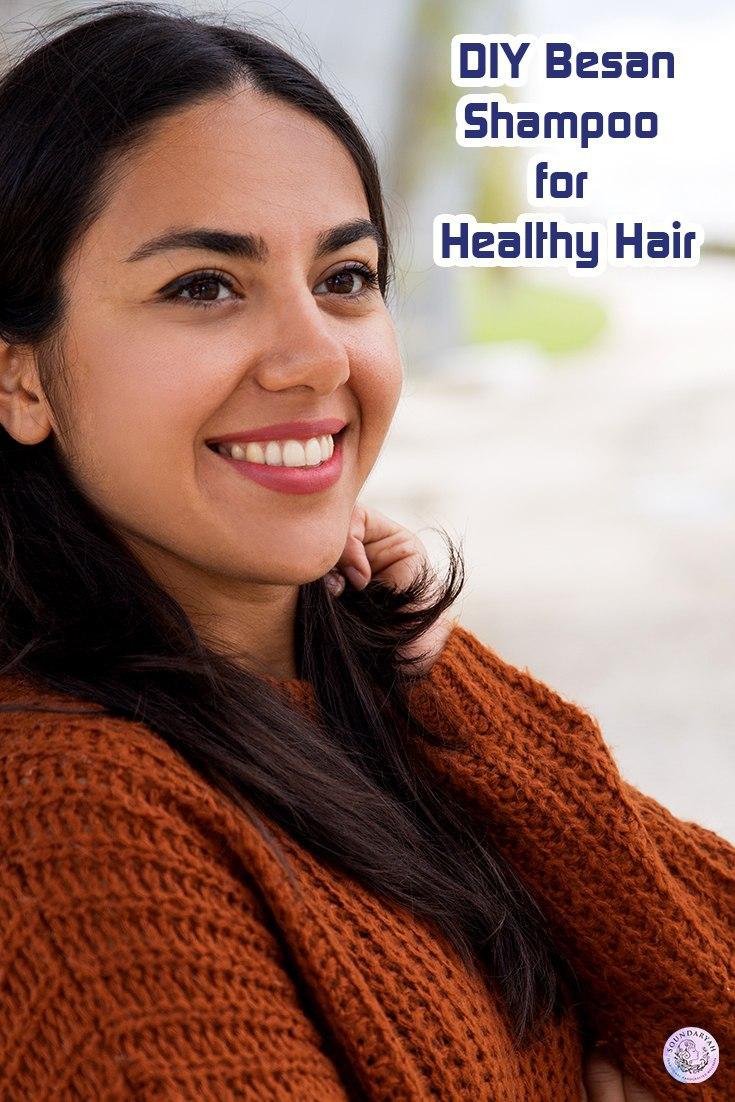 Benefits of Besan (Chickpea/Gram Flour) Shampoo
Besan has saponin-like properties, which helps to dissolve excess oil and clean the scalp
Chickpeas are rich in protein, and this provides nourishment to the hair
Chickpea flour can exfoliate the scalp and gets rid of dandruff
Besan helps to rebalance the scalp's pH, often messed up due to use of chemical products
Chickpea flour reduces hair loss and promotes hair growth
Besan contains antioxidants that fight free radical damage, strengthening follicles
It leaves hair soft and shiny
It is completely natural with zero chemicals
It has no unpleasant smell and is neutral
Now that we know besan shampoo is great for your hair, let's see how to make it.
DIY Besan (Chickpea/Gram Flour) Shampoo with Citrus Rinse
Ingredients:
Chickpea flour (besan)
Half a Lemon/Orange
Water
Honey (for dry hair)
Olive or coconut oil (for very dry hair)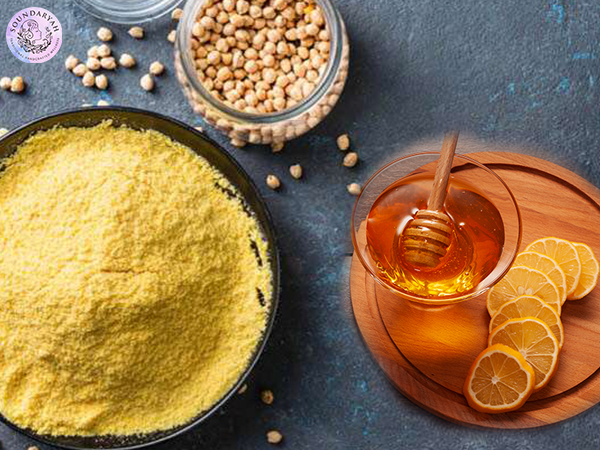 Instructions:
Put about three heaped teaspoons of gram flour in a bowl. Use more if you have long hair.
Mix this with enough water to get a smooth, lump-free mixture. Don't make it too runny or it won't serve the purpose.
Make the citrus rinse by mixing a mug of water and the juice of half an orange or half a lemon. If your hair is very coarse, add a spoon of raw honey.
Take the chickpea mix and the citrus rinse to the shower.
Wet your hair and scalp thoroughly.
Apply it on your scalp and hair, and massage it well.
Leave it on for 30 seconds to a minute.
Pour the citrus rinse over your hair and massage through hair and scalp.
Rinse thoroughly with clean water.
You'll find that your hair is much softer and manageable compared to earlier. To ensure your style lasts and to extend the time between washes, blow dry your hair when damp, using a cool setting on the hair dryer.
You may have noticed that we're using a citrus rinse along with the chickpea shampoo. You can substitute the lemon/orange juice with apple cider vinegar. This rinse is acidic, and this helps close off the cuticles and make hair shiny, smooth and silky. The citrus rinse also helps to disinfect the roots. Those with dry hair are advised to use honey since it is a humectant and emollient – it attracts moisture and retains it on the hair.
Using the DIY Besan Shampoo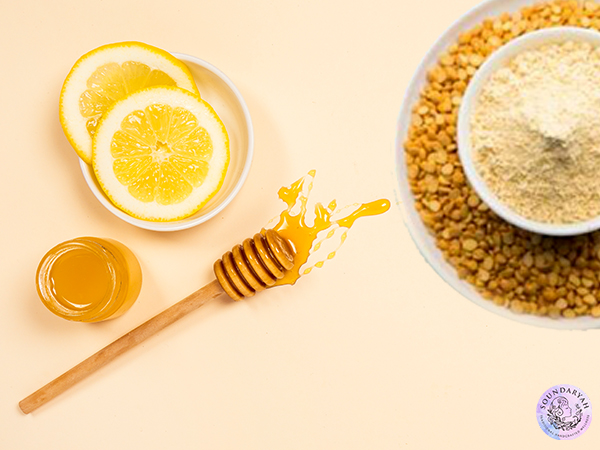 You can use this shampoo and rinse whenever you usually wash your hair, which is generally around once or twice a week. If your scalp tends to get oily quickly, you can use it whenever you feel your hair getting oily, keeping at least 2-3 days between washes.
If you've been used to chemical based shampoos, you may notice some odd things happening when you start using a natural hair wash. Many people notice immediate positive results when they start using this, but many others may find that their hair takes time to adjust.
It can take up to 5 uses to get completely adjusted to the hair wash. By this time your scalp has been rid of all the product buildup and is squeaky clean. It's also been restored to its natural pH.
When starting to use this, it is recommended to use this on un-oiled, unwashed hair. Once you get used to it, you can use it on oiled hair. You can also add a few drops of your favorite essential oil to the mix.
Did you find our "DIY Besan (Chickpea/Gram Flour) Shampoo for Healthy Hair" interesting, please let us know in the comments section.
For more interesting updates do follow us on Facebook and Instagram.